Look, the last thing the world needs is another rambling about gear. But friends often ask me about my take on this new shiny thing, that crusty old whatever, or my general approach on what to grab, toss, and all that. In the spirit of reducing redundancy, it could be useful to capture all of that somewhere.
So, this is meant to be that.
The difference between "a thing" and "a good thing"
We live in a funny time. There are so many resources available when researching any topic. So many that it's easy to stumble into paralysis. When I was planning for the Pacific Crest Trail, the question of what to bring with me felt heavy. Kind of literally; each gram counts when you're carrying it a couple thousand miles across a country.
Like any beginner, all I knew was I didn't know.
One afternoon I scrolled into Ray and Jenny Jardine. Together, they are the OGs of ultralight equipment. At the time, packs were huge heavy canvas bags, with metal frames, and chunky hip belts. The Jardines were creating their own packs—and they looked like little trash bags.
Single volume, silnylon, no hipbelts, or any other fuss. Ray often wore his pack slung over a single shoulder1.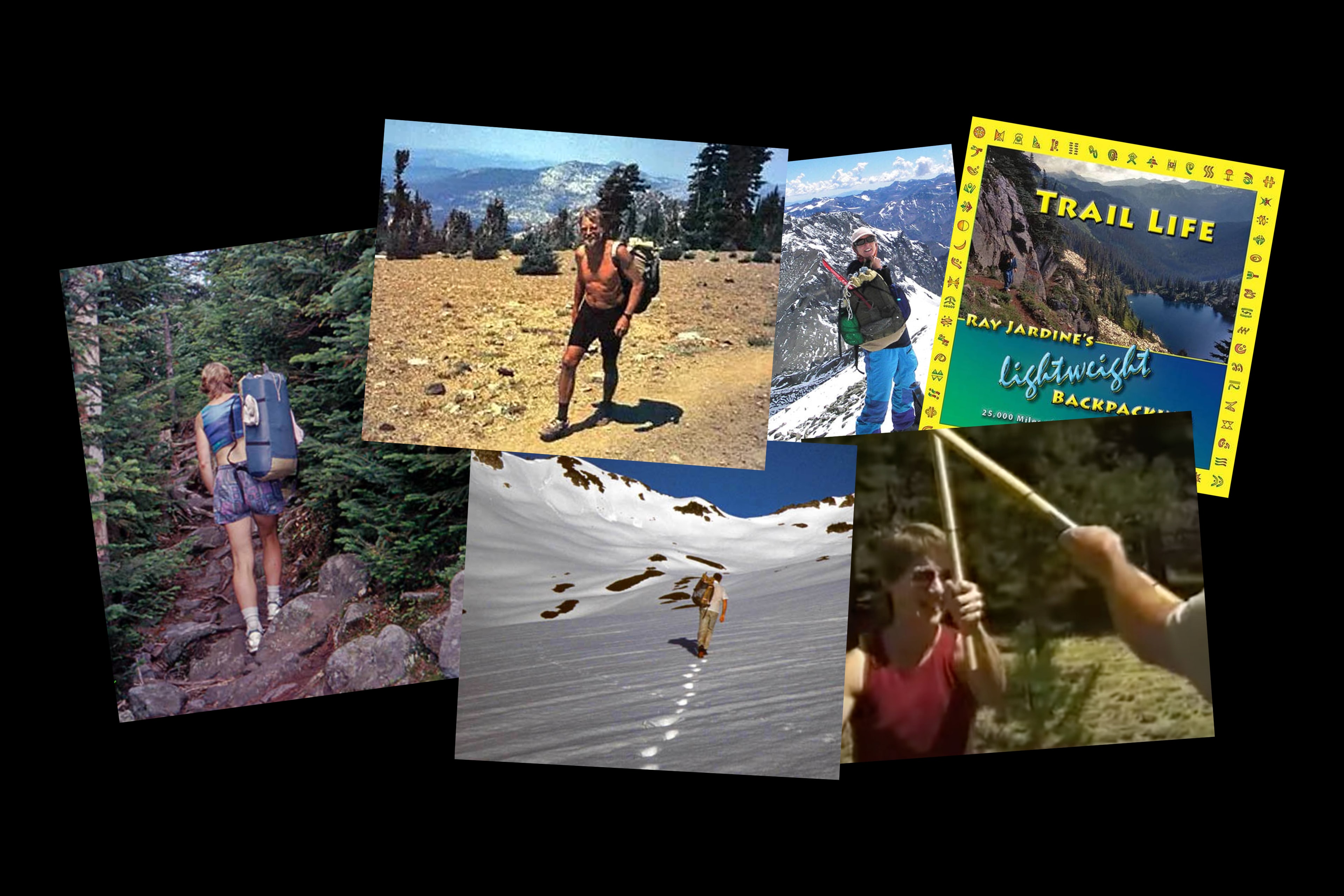 I could go on about the Jardines. There is a page on Ray's site declaring he:
Was the first person (with Jenny) to thru-hike more than three long-distance trails of more than 2,000 miles in length (1993).
Founded the American Long-Distance Hiking Association-West (ALDHA-West) (1994).
Coined the Term "Triple Crown" related to long distance hiking (1994).
Originated the "Triple Crown" Award (1994).
Presented the First Plaques to the Triple Crown Recipients (1994).
Ray and Jenny received the world's first Triple Crown Award.
So to recap, he was the first to do a thing, then created a foundation for the thing, created an award for the thing, and presented the award to the first person to do the thing: himself.
Incredible, and worth the digression.
What excited me when running across Ray were the backpack kits. You can order the material, patterns, and instructions from Ray to create a Ray Way ™ Pack. I was convinced to give it a shot after reading a incredibly endearing piece of writing him called "Why Sew?"
"People will spend hours studying commercial gear in magazines and on the internet. What do they get for that? Heads full of hype, closets full of superfluous gear, and depleted savings. Again, were they to spend a fraction of that same time making their own gear, they would spare themselves the hype and the loss of hard-earned money, and would produce gear that is every bit as serviceable, and much more satisfactory and rewarding." — Ray Jardine
This reminded me of Enzo Mari's Autoprogettazione2, a project created to encourage a knowledge of what makes furniture good furniture. You'd mail order a booklet, find a piece of furniture, and build it using cheap and common lengths of wood, a hammer, and nails. There are no instructions; only self-describing illustrations.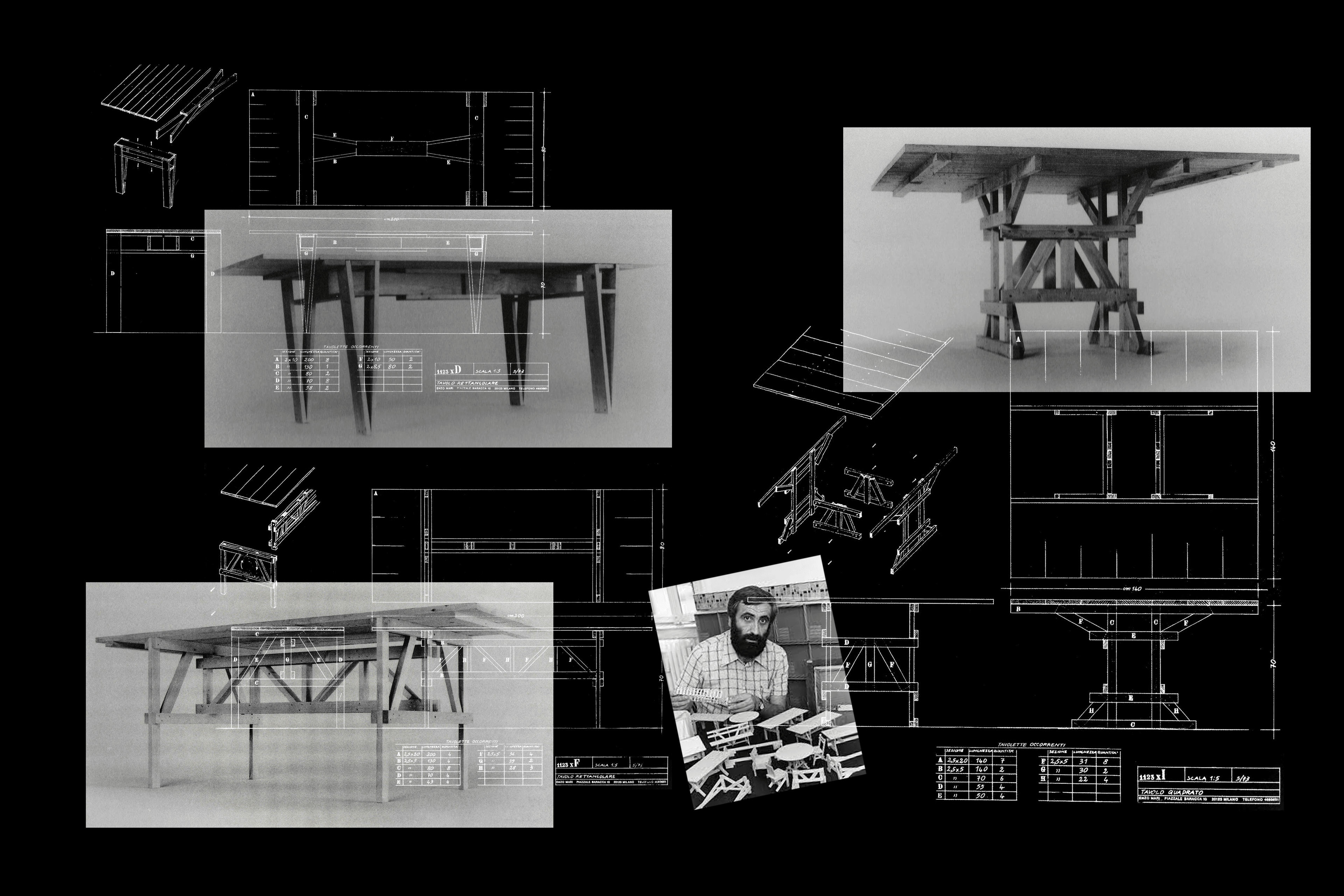 The pieces are not only functional, but beautiful in their focused simplicity and modest material use. For several years I furnished each of my apartments with pieces built from Autoprogettazione. Each time I moved, to avoid the hassle of moving furniture, I'd list everything for free on Craigslist. "Free Midcentury Italian Table." It'd be gone in seconds. And I'd start from scratch and iterate at the next spot.
After a few years I was pretty damn good at making simple furniture.
And so I ordered for the Ray Way kit. It arrived in about a week, and I got to sewing. As promised, it was easier than anticipated. I learned what makes a good pack good, felt liberated to modify it, and capable of fixing it in the future. There was also no pressure to baby it, having flaws right out of the gate.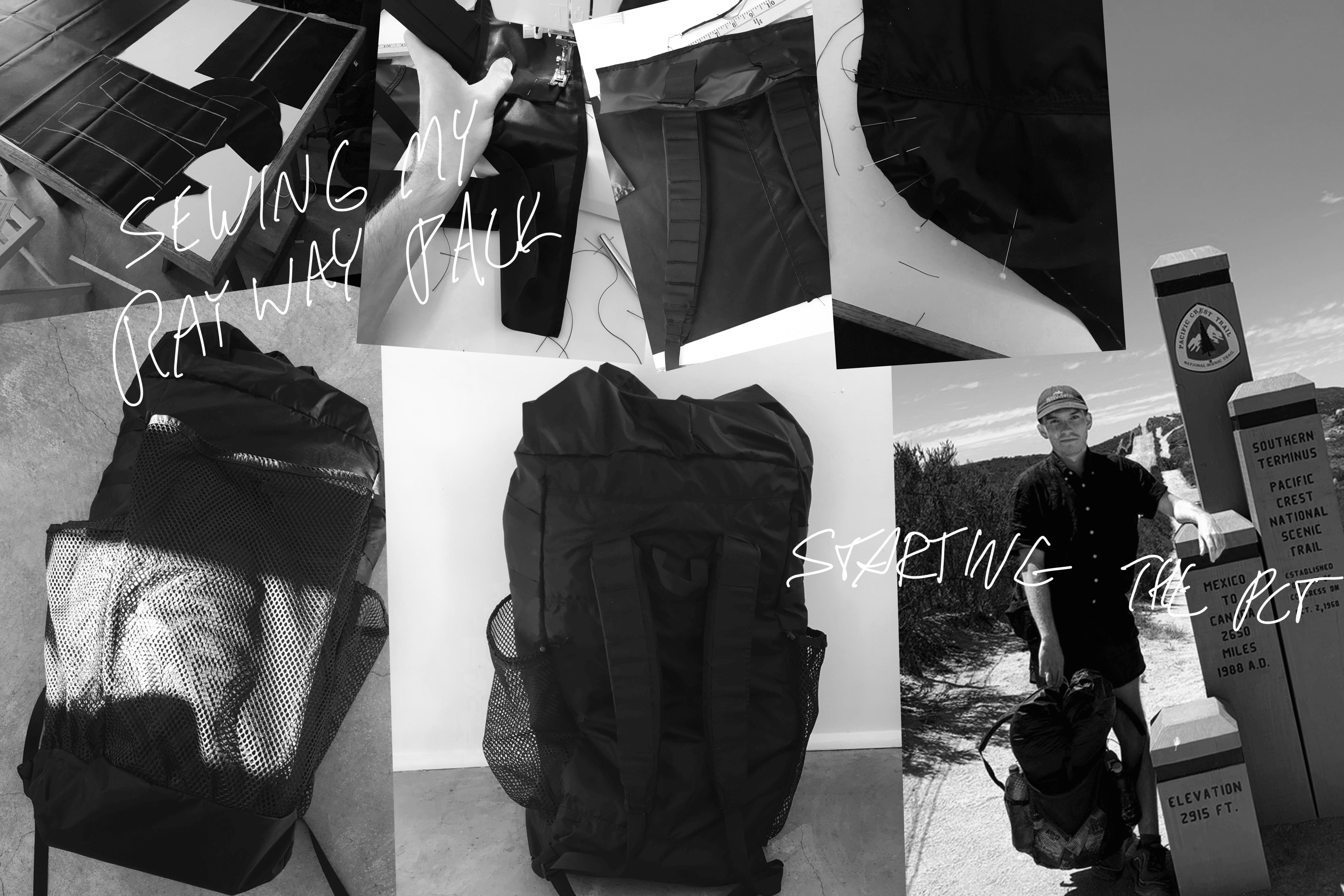 I carried it with me the first 700 miles of the trail, until entering the alpine Sierra Nevada. This stretch requires a bear can, ice axe, and some extra clothing. I also brought along a stove for morning motivation to warm up get moving, something I didn't fuss with the rest of the trip. It was easier to make a decision on what pack to grab for this heavier carry—now I knew what I was looking at.
Enjoying good things
Hands on experience is priceless. Critical understanding through practice. The knowledge is carried with you, and applied when making future decisions—recognizing when, and identifying why something is good.
It's not possible to build every tool in your box, but there are similarities between tools that make an experience relevant beyond the immediate application. Packs, bags, shelters—even clothing. Using silnylon once makes you more confident to repair other gear. But having a set of instructions, and working on something you originated helps relieve the pressure of farming your first more demanding repair job.
One of my favorite packs is the Pa'lante Joey. It uses nylon ripstop to create a single volume and has vest-style straps. While I could've made something similar myself, I recognize the craft that went into the Joey, and what Pa'lante is trying to do.
On support
There's a satisfaction from supporting people going out on a limb and doing good work.
Like purchasing a pack from a cottage company like Pa'lante. Knowing you're helping to sustain a small business making more good gear accessible to more people. They're generally more nimble than larger manufactures, and experimenting on the edge.
Or grabbing a bit of kit from a larger manufacturer who funds experimental projects, like Goldwin and their Goldwin 0 series of campaigns by OK-RM.
"A garment is made from materials and energy. An intergenerational garment is made from all the materials and energy it has saved; by rendering their production unnecessary. Functionality and performance are not incompatible with ethics and responsibility." – Goldwin 0
The clothes come at a premium, but ultimately a purchase goes to funding experimentation and new material use. The hope is, as process is refined, these techniques make their way into more common offerings.
My Goldwin jacket got a cut from the edge of a ski when shouldering them to the car. My familiarity with repairing technical fabric from fixing my Ray Way pack freed me up to make a simple patch repair with confidence.
Goldwin isn't required to do the research, or fund interesting projects like the OK-RM campaign. The gesture goes a long way towards motivating me to support the effort by making a purchase.
The Supply
I've rounded up a growing collection of my favorite tools (and some toys) at The Supply. It's updated on a weekly cadence, and serves as a (hopfully) useful reference of good things with a common spirit. You can filter with the categories to hone in on something you may have in mind. You aren't gonna want crampons in town, or be sippin wine in the backcountry… wait, maybe you are?
A loose manifesto
Keep it basic
Keep it light
No more than necessary
Get your hands dirty
Make your own shit
Support shit you like
Don't suffer unnecessarily
Keep it fun